Here, I will be writing about the process of making brine cured olives. I previously wrote about the process of making dry salt cured olives. Dry salted cured olives are some of my favorite types of olives, but some people are less partial to them due to their increased bitterness and strong taste compared to their brine cured counterparts. As you can see, there are some distinct differences in brine cured olives (top) and dry salt cured olives (bottom):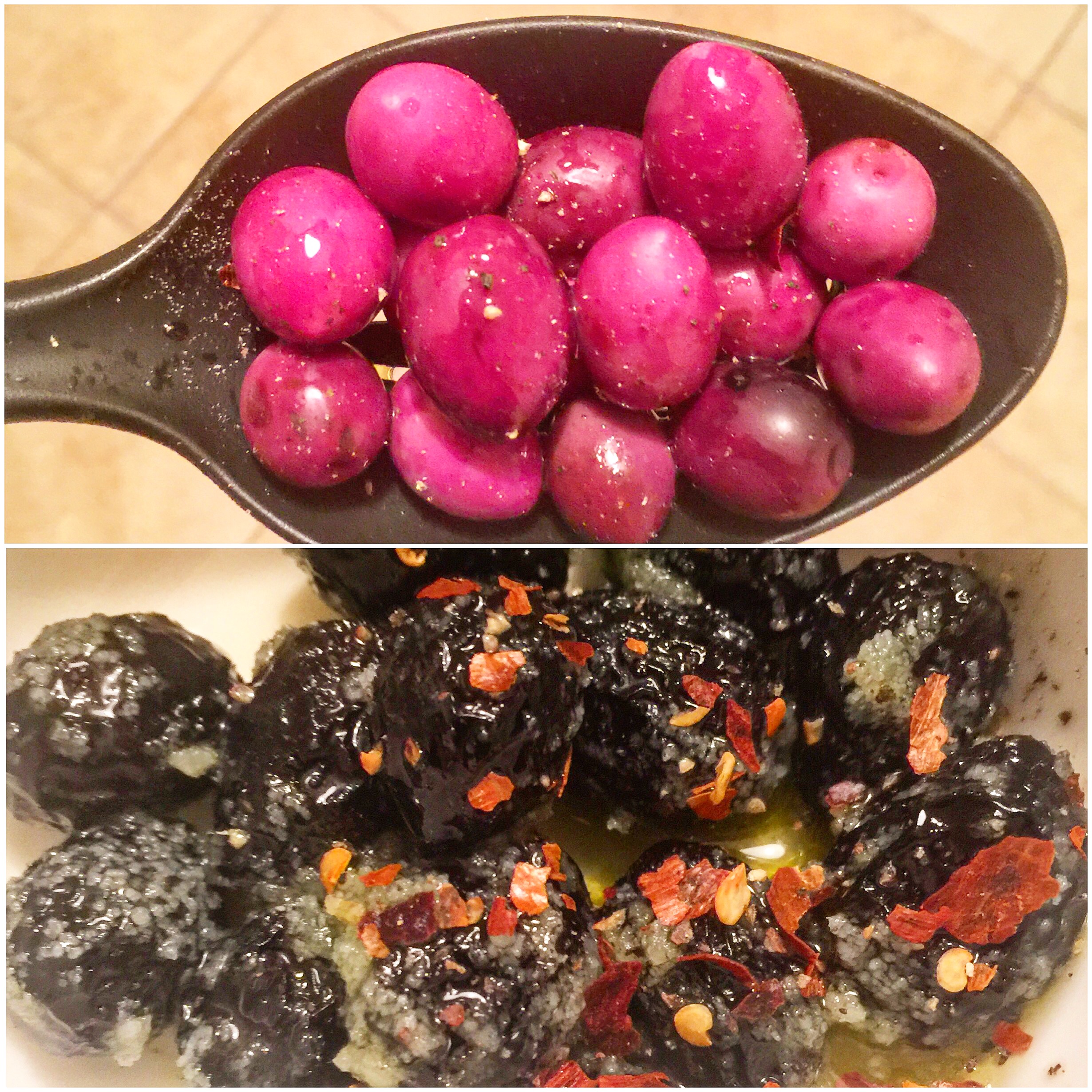 Here, I will detail the process of using a brine cure to cure olives. This method takes longer than dry salt curing olives, but is able to leach away more of the bitterness. It is a fermentation process, so if you have a fermentation jug or set up, now is a good time to use it. Otherwise, any vessel should do, just make sure to cover the top loosely to avoid contamination with outside sources and to allow for gas release. CO2 will be released during the fermentation process, and can cause problems if not given an outlet.
---
Method: Similar to the salt cured method, I used black olives. The first step is to sort them for deformities, and wash the pile of good olives, and dry them off.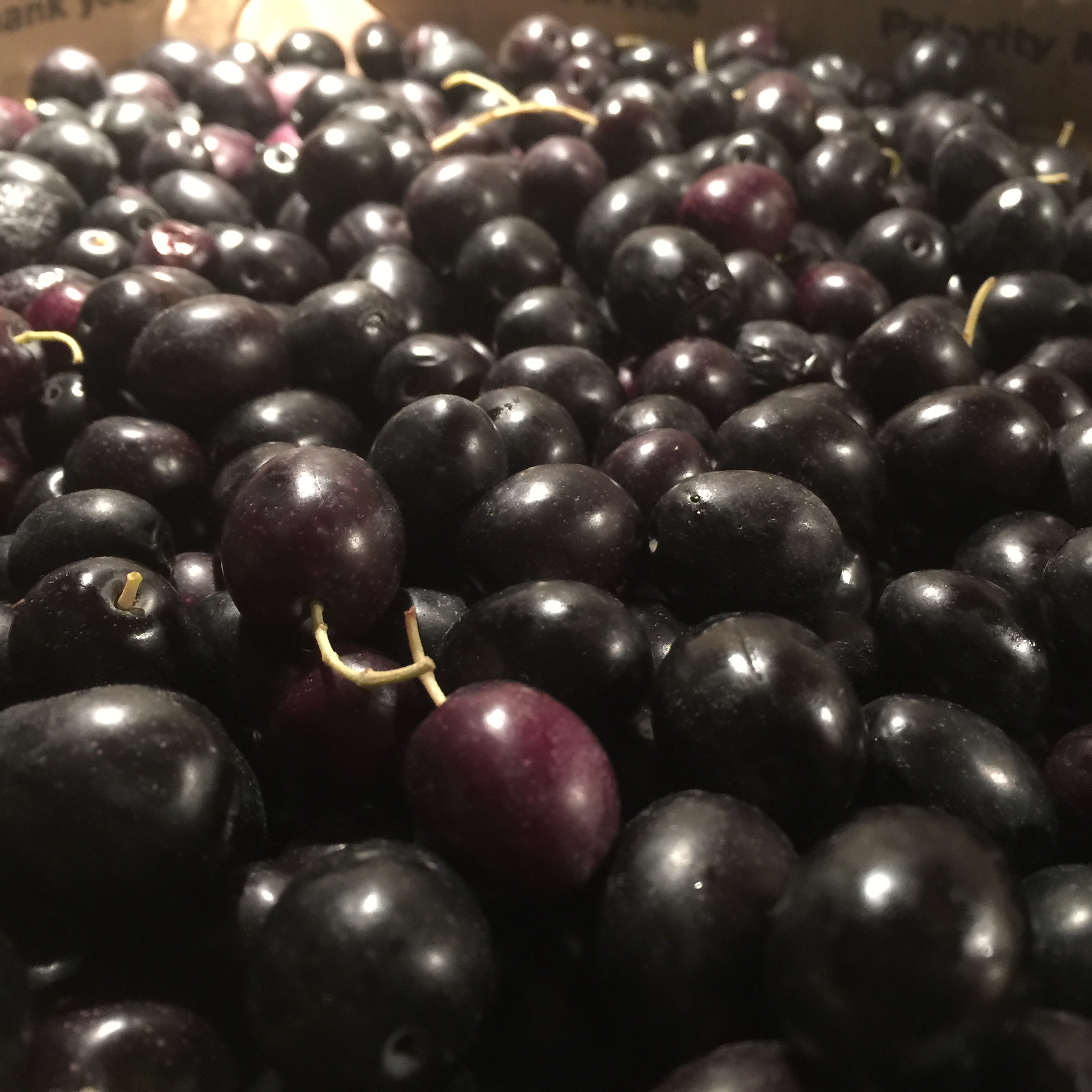 Then, the olives will be stored in an appropriate container. Add a medium strength brine (.75 cups per gallon of cool water) to cover them. I used a fermentation jug, and two mason jars with fermentation air lock set ups.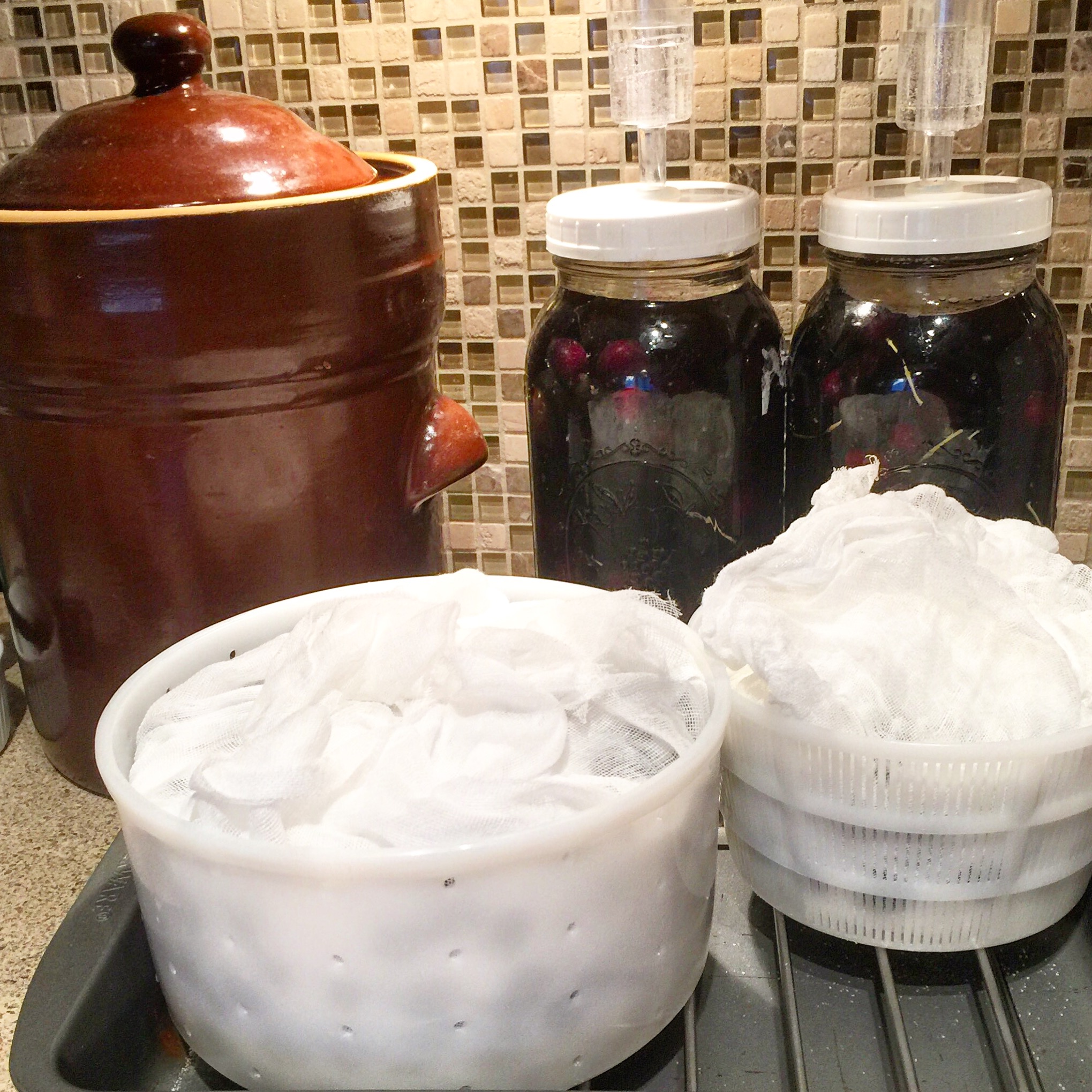 Allow the olives to sit in the initial medium strength brine for 1 week at room temperatures (60-80 F).
After 1 week, pour out the olives and the medium strength brine.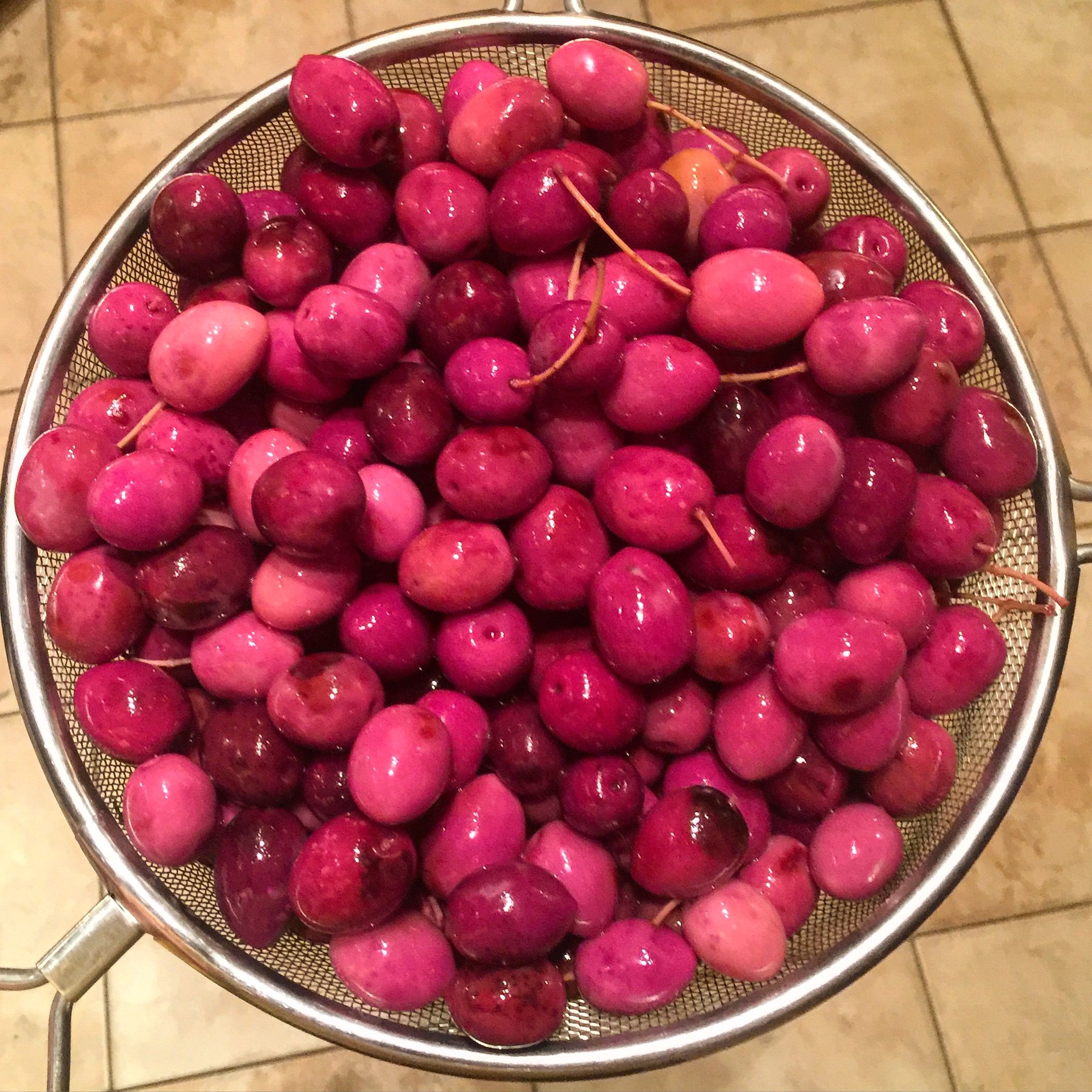 Put the olives back into their containers, and cover the olives in a strong brine (1.5 cups of salt per gallon of cool water).
In the following picture, you can see the color (and bitter compounds) being leached out by the consecutive brine changes. On the left, the olives are in their initial brine solution, on the right, they have had their brine solution changed out. They are noticeably lighter on the right.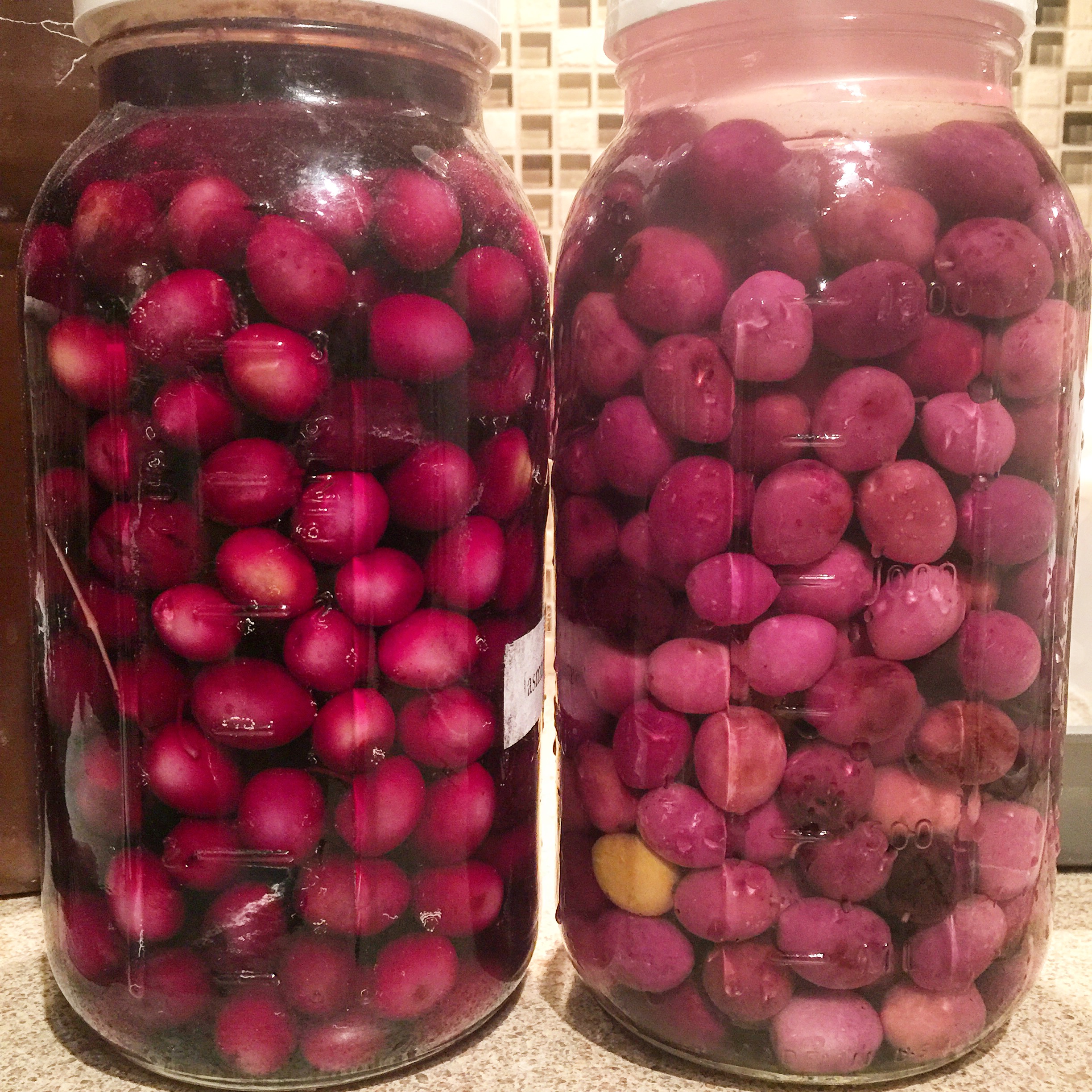 Every month, replace the brine solution with a new strong brine solution (1.5 cups of salt per gallon of cool water).
Keep this up until the olives are to your liking. The longer they cure, and the more brine changes that are done, the less bitter that they will be.
After 2-3 months, the olives are generally ready for consumption.
---
To store the olives: Leave the olives in a cool, dark place in a strong brine to store them (up to 12 months) in an airtight container. I used a mason jar with a vacuum sealed top.

To eat the olives: Soak in water over night (optional) to decrease the saltiness of the olives. Toss in olive oils and herbs, and serve at room temperature.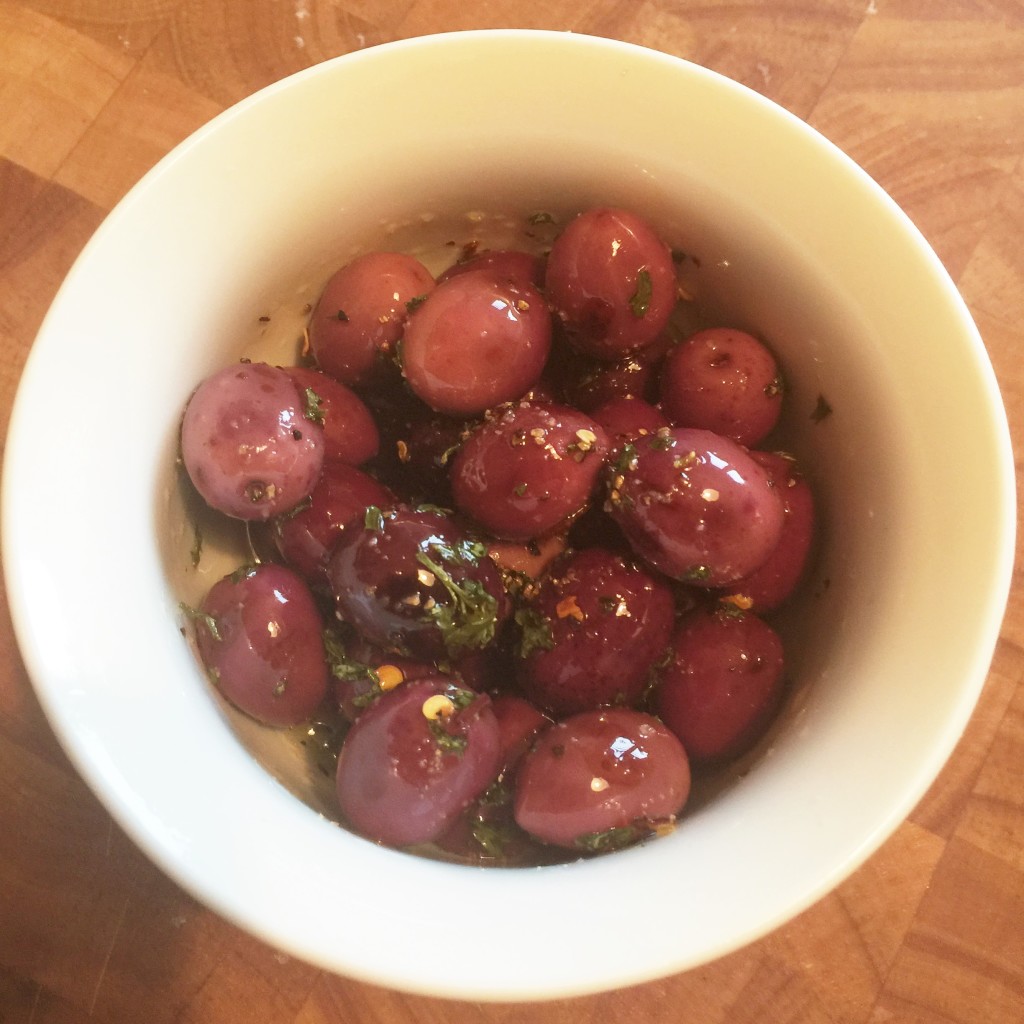 ---
Resources:
http://anrcatalog.ucanr.edu/pdf/8267.pdf