Maillard reactions are responsible for creating some of the most delicious flavors in cooking. Maillard reactions are referred to as "browning reactions", as they are responsible for the taste of items such as toasted bread or seared steak. A Maillard reaction is a chemical reaction that occurs between what is referred to as a reducing sugar and an amino acid. An example of a reducing sugar is glucose. An amino acid can be found at the end of a peptide chain, in say meat. (Maillard Wikipedia)
This is illustrated well by many of the projects done by Breadventures_NJ (http://www.breadventuresnj.com/), such as the following pretzel puffs: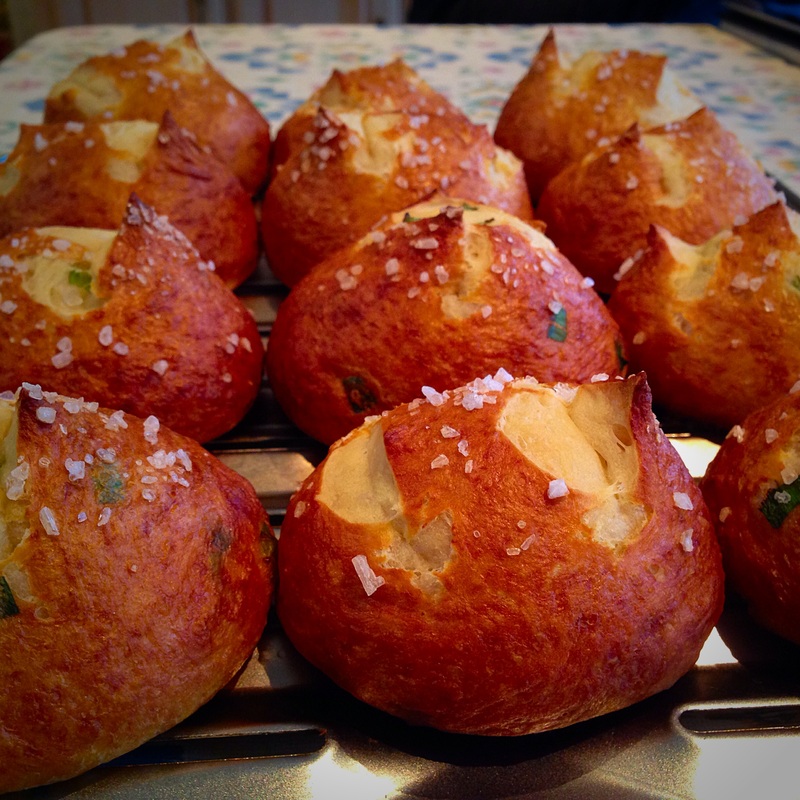 The actual reaction occurs between the carbonyl of the reducing sugar and the amino group in the amino acid. It usually requires heat, but can be found to occur without heat in either high pressure or alkaline situations.  However, in most cases, such as in cooking a steak, the reaction will occur at 154 C or 310 F. For this reason, it is important when cooking a steak to keep moisture as low as possible, since having water in the reaction will keep the temperature at 100 C, and retard the rate of Maillard reactions. (Cooking for Geeks)
The amino group is nucleophilic, meaning that it is "nuclei-liking." All this really means is that it is negatively charged, and will donate electrons to a more positively charged nucleus. Because of the way electrons are distributed in the carbonyl  group in the sugar, the oxygen has more of a negative charge, leaving the carbon with more of a positive charge. This means that the nucleophilic amino group will want to "attack" the more positive carbon atom in the carbonyl, which is the first step of a Maillard reaction. This reaction is more likely to occur in alkaline conditions because the amino group is more likely to be de-protonated, and therefore more negatively charged to begin with.
The amino-alcohol will undergo dehydration, and the result will be an N-substituted glycosylamine and water.
In the next step, the unstable glycosylamine will undergo what is known as an Amadori rearrangement. The result of this will be a ketosamine. (Wikipedia Amadori)
From this point, the ketose amine can react further to create a number of different endpoint products.
A schematic of the chemistry that goes on during all these steps is drawn out in the following figure. The reaction mechanism shown is for the reaction of alanine and glucose, and is simplified and condensed in places, but should give a good idea of what is actually going on during a Maillard reaction.
The reason that Maillard reactions impart such rich flavor to food is because there are a variety of sugars and amino acids that can combine to form different products. The result is an array of wonderfully rich flavors.
Resources:
Maillard Wikipedia: http://en.wikipedia.org/wiki/Maillard_reaction
Amadori Wikipedia: http://en.wikipedia.org/wiki/Amadori_rearrangement
Kitchen as Laboratory: The Kitchen as Laboratory: Reflections on the Science of Food and Cooking, Edited by Cesar Vega, Job Ubbink, and Erik van der Linden
Cooking for Geeks: http://www.cookingforgeeks.com/
On Food And Cooking: The Science and Lore of the Kitchen (Google eBook) by Harold McGee
Breadventures_NJ: http://www.breadventuresnj.com/