Nothing is better than a delicious tapa. There are many different traditional tapas from different regions of Spain. If we look beyond Spain, we can find traditional food pairings from other cuisines, such as Italy. Cured meats paired with fruit is a dish found in many different cultures, for good reasons. It is delicious. One of the things I like best about molecular gastronomy is playing with traditional food pairings in new and unexpected ways.
In Italy, prosciutto e melone is a well known pairing. As a fan of the Spanish jamón serrano, I often keep some in stock. For this experiment, I decided to play with this pairing. I made spherical melon "caviar" served on jamón serrano as a tapa.
Science is the pursuit of knowledge that is approached from a systematic methodology that is ever questioning, criticizing, and incorporating. It takes theories based on facts that it came up with yesterday, dissects those decisions, and creates newer and more accurate theories. These theories will inevitably undergo the same evolution when tomorrow's scientists realize what dunces we are today. However, it takes the semi-accurate discoveries and theories of the past to build upon the more right theories of today (Grobstein).
The scientific method can, and should, be applied gastronomy. It is not to say that food creations of the past are outdated, quite the opposite in fact. They are well established models for a reason. We are able to build upon what those before us have created, and create something new. This process is similar to Picasso studying the masters at the Prado, deconstructing their creations, and creating his own masterpieces. That is the goal of molecular gastronomy; to understand food at its core, to deconstruct it, and then create our own masterpieces that surprise and delight.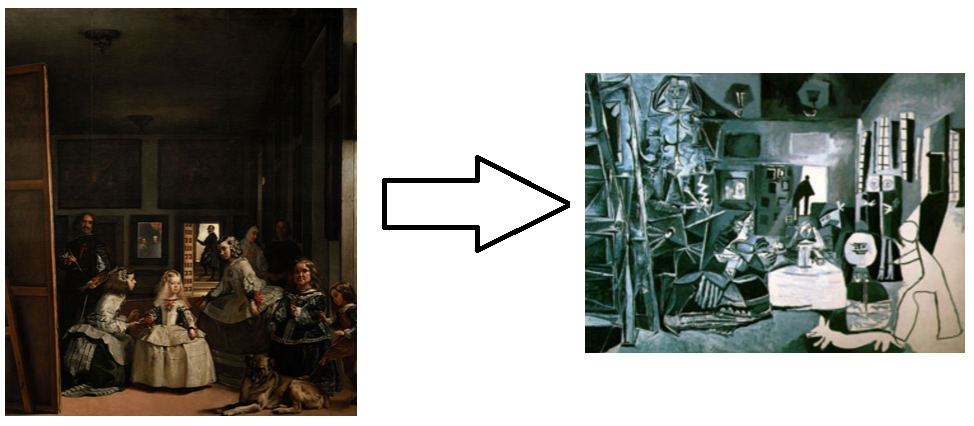 There are both simple experimentations and more complex ones. One of the more complex and important experiments in gastronomy was the discovery that Chef Auguste Escoffier made with his use of chemistry (whether he knew it or not) to create veal stock using pan deglazing, and the subsequent introduction of umami to the western palate. (NPR)
A simple experimentation is the utilization of spherification to create foods with new texture compositions. However, it is not to be overlooked. It is one of the ways that molecular gastronomy can take traditional dishes and play with the textures and therefore tastes of the plate.
Spherification is a method that utilizes the chemistry of gelling agents. I've discussed agar-agar before, but this method uses sodium alginate. Sodium alginate is a gelling agent, which like agar, is extracted from seaweed. This method creates spherification via a calcium mediated gelling mechanism.
First, the sodium alginate is dissolved in a solution of what the spheres will be made out of. Then, a calcium bath is made by dissolving either calcium chloride or calcium lactate in water.  A syringe is loaded with the sodium alginate solution, and droplets are released into the calcium bath.
When the droplets make contact with the calcium bath, the outermost layer gels. This is due to calcium-mediated gelling. Calcium is a divalent ion that acts like a bridge between alginate chains. When the sodium alginate solution comes in contact with the calcium bath, the negative polymeric alginate chains are attracted to the positive calcium ions. They fit together in an "egg box configuration." These polymer chains continue to form on the area that is in contact with the calcium bath until an outer layer gel has formed. The result is a gelled outer layer with a liquid center. (Kitchen as Laboratory)
---
Experiment:
The traditional dish I decided to play with was the pairing of cured meat with melon. Traditionally an Italian dish, prosciutto e melone, can be made just as well (if not better) with the Spanish cured ham, jamón Serrano.
Before I started with anything, I prepared the calcium bath that would be used later. To do this, I dissolved 5 g of calcium lactate in 500 g (18 oz) of water.  Once the calcium lactate is dissolved, this bath was put in the refrigerator to cool while the rest was being prepared.
The first step was to take a melon, and chop it into smaller pieces.
These pieces were then put in a small blender and smoothed into a puree. The puree was passed through a strainer to create a fine melon juice, and measured at 8.5 Oz.
Then, 8 Oz (~150 g) of strained melon juice was added to 2 g sodium alginate and the mixture was blended until the sodium alginate was completely dissolved.
Then it was time to start! The calcium bath was removed from the fridge, and the syringe was filled with the melon-sodium alginate mixture.
Droplets were released from above the calcium bath and allowed to solidify for ~2 minutes in the bath.
They were removed from the bath using a slotted spoon and gently rinsed with water to remove any traces of calcium.
---
Tasting:
The melon spheres were plated on top of delicious jamón Serrano, creating a delightful tapa of complementary flavors that literally explode in your mouth. This was a delightful play on the usual dish, and the perfect accompaniment to any meat and cheese platter. The spherification of fruit; definitely something you are going to want to try to complement any favorite cured meat or cheese.
Grobstein: http://serendip.brynmawr.edu/local/grobstein.html
Picasso: http://en.wikipedia.org/wiki/Pablo_Picasso
Picasso Meninas: http://en.wikipedia.org/wiki/Las_Meninas_(Picasso)
Las Meninas: http://en.wikipedia.org/wiki/Las_Meninas
NPR: http://www.npr.org/templates/story/story.php?storyId=15819485
Molecular Recipes: http://www.molecularrecipes.com/spherification/melon-cantaloupe-caviar/
Kitchen as Laboratory: The Kitchen as Laboratory: Reflections on the Science of Food and Cooking, Edited by Cesar Vega, Job Ubbink, and Erik van der Linden